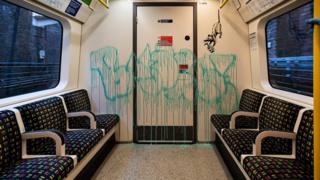 Banksy has returned to the London Underground with a piece encouraging people to wear a face mask.
A video posted on his Instagram page shows a man, believed to be the enigmatic artist, disguised as a professional cleaner.
He can been seen ordering passengers away as he gets to work, stencilling rats around the inside of a carriage.
The artist's name is also daubed across the driver's door of a train.
The work, called If You Don't Mask, You Don't Get, features a number of rats in pandemic-inspired poses and wearing face masks.
One rodent stencilled on the Circle Line train appears to be sneezing, while another is shown spraying anti-bacterial gel.
At the end of the video, the words "I get lockdown" appear on the side of a station wall, followed by "but I get up again" as the train's doors close, while Chumbawamba's 1997 song Tubthumping plays.
All users of public transport in London must wear a face mask.
Face masks on public transport – one month on
Transport for London has said it is not yet able to comment. The BBC has asked if the travel authority worked with Banksy on this artwork and, if not, whether it posed a security risk.
Early on in his career Banksy, who is originally from Bristol, often spray-painted rats and monkeys on to Tube trains.
July 14, 2020
Categories: